How to register DIAFAN.CMS
Once installed on your site, diafan.CMS will operate in test mode for 21 days, without requiring payment. When this period is over, a notice will be released. Next, you must either stop using the system, or purchase a license for DIAFAN.CMS and enter into it the domain of your site. This is done in a personal area user.diafancms.com.
By registering once, you can create a lot of sites on DIAFAN.CMS simply acquiring a license and adding domain names in your account.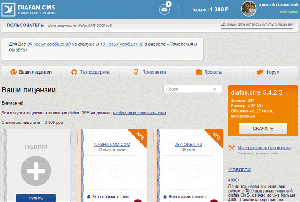 The license for the main domain also applies to all its sub-domains, that is, if you bought a license for site.com address, you can use DIAFAN.CMS and website address shop.site.com and company.site.com.
For testing and development on a local Web server license is not required – to create for this local address without a point – localhost, diafan, mysite, etc. It is important to remember that the point at addresses, diafan.loc or mysite.com system prompts license. Also, the automatic update system for local sites impossible.
What happens if I install DIAFAN.CMS domain for which no license?
Schematically, the relationship between the private office and sites can be represented as follows: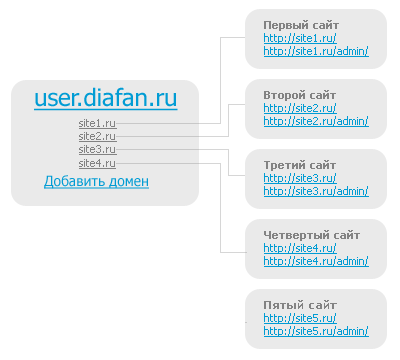 In the first 4 site license there, so everything will work. But the administrative part of the site without a license 5, so 21 days after the installation stops working. When you try to go to address http://site5.com/admin/ will display an appropriate message.
Using DIAFAN.CMS online without a license is unlawful and a criminal is punished according to Art. 146 of the Russian Federation "Illegal use of copyright" of the Criminal Code. In addition, infringement of the exclusive property rights entails civil penalties under Art. 1301 of the Civil Code of the Russian Federation in the form of compensation of the right holder damages by way of payment of compensation in the amount of 10 thousand to 5 million rubles or double the size of the cost of the copies of the work of their own choosing. The owner of the claim will be sent to the site. Also, the corresponding claim will be sent to the address of the website hosting provider and domain name registrar used.