About DIAFAN.CMS
DIAFAN.CMS — a universal content management system.
The system is tailored specifically to rapid creation of sites of any complexity and provision of subsequent convenient support. DIAFAN.CMS can power:
corporate websites
online store
information portals
DIAFAN.CMS comes in a single version, which includes all the modules - at a single license price of $199 only.
CONVENIENT CONTENT MANAGEMENT
DIAFAN.CMS is very easy and convenient to manage.
No special skills are required.

Setting up the Control Panel interface
You can keep, sort or rename Control Panel menu items just the way you want it for a particular site.

A user-friendly and intuitive interface we've been working on for many years.
After creating your website, you are unlikely to have issues on how to manage the site on DIAFAN.CMS. Everything will be very clear. Try
our DEMO
now and see for yourself.

Edit in place
Editing the website from the user part. If you can add new pages to the site or new items in the product catalog only from the control panel, then you only need to be authorized to be able to edit what is already on the site.

Drag & Drop
Dragging items in the pages tree of a site, menus, product catalogs, etc. To sort a list, you only need to drag the item to the desired position with the mouse.

Additional parameters
All seldom used functions are hidden once again not to be an eyesore. Therefore the management interface the website looks very easily and clear for beginners.

Features
Most of the site settings and configurations are accessible from the control panel, without connecting to the FTP.

Access control
DIAFAN.CMS has a feature that enables you to share site management rights. If you have full admin rights, then you can, for example, give the secretary rights to only post news or read the feedback section, and give the managers right to receive orders.

Recovering deleted items from the recycle bin
Even if something was deleted from the site by mistake, it can be recovered because the items are not deleted from the site permanently but are moved to the recycle bin.

Multilingual
There could be any number of languages of a part of the site or the Control panel.
DIAFAN.CMS modules
Modules are actually packets of ready-made solutions. News, store, articles, photo galleries, surveys, mailings, forums, ads, file archives, comments, and many other modules are developed and included in a packet as standard solutions. In DIAFAN.CMS, any module can be improved, modified and expanded. You can also write your own module. The built-in dynamic blocks allow you to get any amount of any content on any page of the site.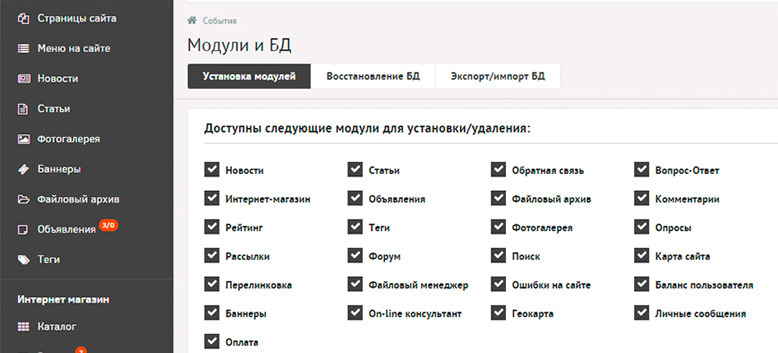 E-COMMERCE
An online store module contains almost everything you need for online trading: powerful control for products and orders catalog, online payment, additional features, import/export, and much more.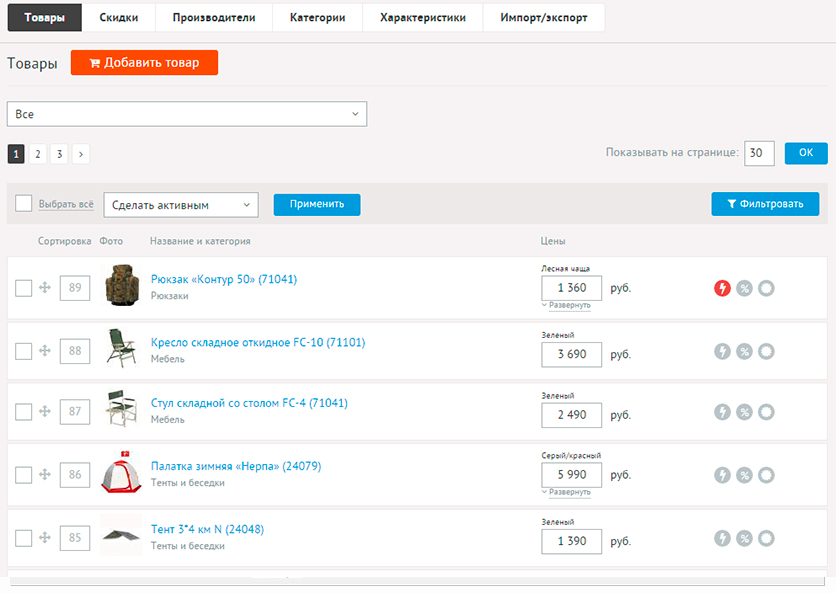 PERFORMANCE
Thanks to our internal caching algorithms and memcached, load on the hosting server is minimal, while the page loading speed is very high.
DIAFAN.CMS – the recognized leader among commercial CMSs in terms of efficiency and load resistance.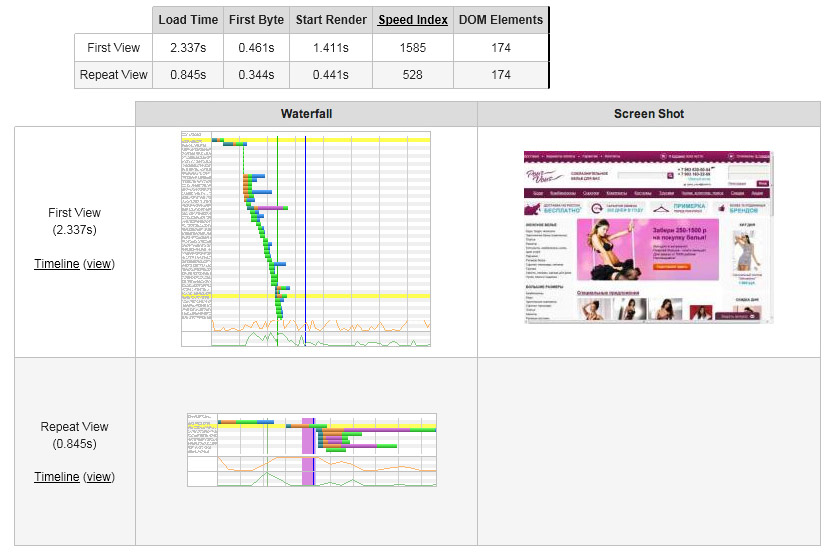 AUTO UPDATES
DIAFAN.CMS updates are free and semi-automatic. The system automatically detects files modified and improved by the webmaster and puts them in a separate folder.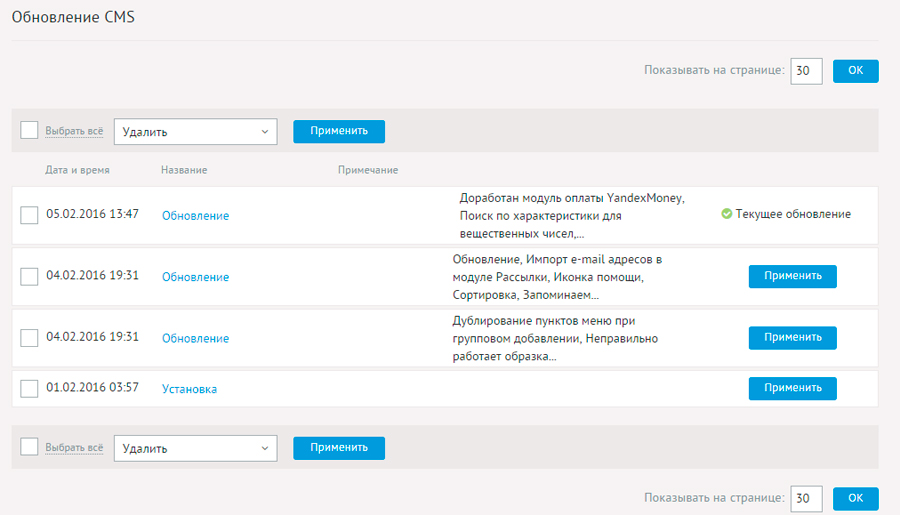 SEO
DIAFAN.CMS has everything needed for full search engine optimization: semantic flexible configuration of URL, meta tags, correct return of last-modified header and service pages with codes 404, 403, 301, 503, site map and sitemap.xml are created automatically.